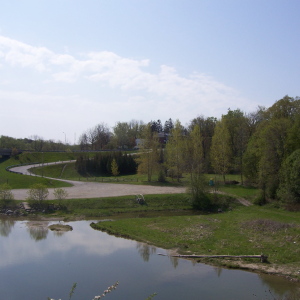 Wildfang Scout Park
Size
2.4 ha (6 acres)
Coordinates

44.172597

,

-81.638889

Street Address
Wildfang Ln, Kincardine, ON (Map may be inaccurate)
Nearest town
Kincardine, Ontario
NTS Map
41A/4: Kincardine
Operated by
Scouts Canada, Shining Waters Council, Sunset Area, 1st Kincardine Scout Group
Information
empty
Bookings
Same as above
Accommodation
Facilities
Program
Tenting sites: Yes
Adirondack shelters: No
Villages: No
Cabins: No

Drinking water: No
Emergency phone: No
Mobile phone coverage: Unknown
Electric vehicle charging: No
Picnic tables: No
Cooking shelters: No
Appliances in cabins: No
On-site store: No
Shopping nearby: Yes
Showers: No
Indoor washrooms: No
Wheelchair washroom: No


Swimming

Large public beaches on Lake Huron nearby

Major hiking trails nearby

Opportunities

Hiking trails, formal campfire circle, sledding, sports field, fishing, canoeable water.
Description
Wildfang is a very small Scout park located near downtown Kincardine. The site is bounded by the Penetangore River to the north, Queen Street to the east, Huron Terrace to the west, and some woods on a steep slope to the south. It has easy access to the Kincardine municipal trail system just across Queen Street. The central business district and harbour are both a short walk from the park. The property was donated by Dr. Wildfang in 1944.
For More Information
| | |
| --- | --- |
| Information | empty |
| Bookings | Same as above |
Driving Directions
This information was gathered from reader contributions: use at your own risk.