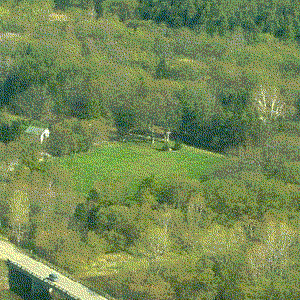 Peacehaven Scout Camp
Status: Closed
Accommodation
Facilities
Program
Tenting sites: Yes
Adirondack shelters: Yes
Villages: No
Cabins: Yes

Drinking water: No
Emergency phone: Yes
Mobile phone coverage: Unknown
Electric vehicle charging: Unknown
Picnic tables: Yes
Cooking shelters: Yes
Appliances in cabins: Yes
On-site store: No
Shopping nearby: Yes
Showers: No
Indoor washrooms: No
Wheelchair washroom: Yes


Swimming

On-site pool

Opportunities

Formal campfire circle, chapel, pioneering supplies, archery, volleyball, sports field, fishing, canoeable water, canoes available.
Description
The camp has winter and summer facilities, with a good mix of wooded and open areas. The Nith River runs the full length of Peacehaven, with lots of campsites along its banks. Two large cabins with full kitchen facilities sleep 30 people comfortably. One of the large buildings has separate sleeping quarters which will sleep six to eight adults very comfortably. In addition, we have a six-bunk, woodstove-heated bunkhouse, a well-equipped first aid lodge, and a well-stocked camping equipment shed with reasonable rental rates. The camp also has canoes for rent, complete with trailer for off-site use. We also have equipment for archery, baseball, volleyball, moonball, and crafts. In the summer the pool is open. It has room for 65 persons and is complete with changerooms and showers (no lifeguard without prior arrangement). Hiking is available in a nearby conservation area.
Peacehaven is on the site of the settlement of Howells Mill, the name of which was changed to Moscow before the founding of Drumbo. The Camp Ranger's house was a hotel. The residence across the road from the camp was a store. The remains of the mill are behind the Rover Chalet.
The camp was closed by Tri-Shores Council and subsequently sold.
Driving Directions
This information was gathered from reader contributions: use at your own risk.