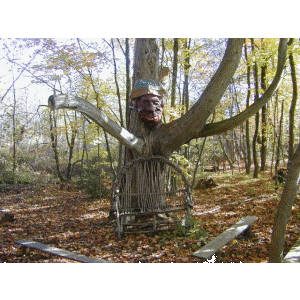 Camp Impeesa
Accommodation
Facilities
Program
Tenting sites: Yes
Adirondack shelters: Yes
Villages: No
Cabins: Yes

Drinking water: Yes
Emergency phone: Yes
Mobile phone coverage: Yes
Electric vehicle charging: Unknown
Picnic tables: Yes
Cooking shelters: Yes
Appliances in cabins: Yes
On-site store: No
Shopping nearby: Yes
Showers: Yes
Indoor washrooms: Yes
Wheelchair washroom: Yes


Swimming

Nearby Conservation Areas

Major hiking trails nearby

Grand Valley Trail

Theme area

Beaver Story Tree, Council Rock

Opportunities

Hiking trails, formal campfire circle, chapel, snowshoes available, low ropes course, volleyball, sports field.
Description
The camp in set of a beautiful forest of hardwood and pine trees. There are three large open play areas, open and forested camping areas, three Adirondack shelters, and three cabins with fully-equipped kitchens and indoor bathrooms. In 2011, the camp opened the Normandale Adventure Field which consists of a traverse wall, zigzag, whale watch, and Bermuda triangle activities as well as a low ropes course set in the tree line.
The volunteer Camp Impeesa Committee maintains the camp.
Driving Directions
This information was gathered from reader contributions: use at your own risk.