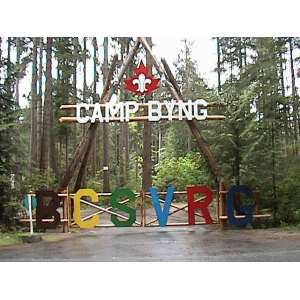 Camp Byng
Accommodation
Facilities
Program
Tenting sites: Yes
Adirondack shelters: Yes
Villages: Yes
Cabins: Yes

Drinking water: Yes
Emergency phone: Yes
Mobile phone coverage: Yes
Electric vehicle charging: Unknown
Picnic tables: Yes
Cooking shelters: Yes
Appliances in cabins: Yes
On-site store: No
Shopping nearby: Yes
Showers: Yes
Indoor washrooms: Yes
Wheelchair washroom: Yes


Swimming

Beach on-site; pool in Gibsons

Major hiking trails nearby

Mt. Elphinstone, Dakota Ridge, Chapman Creek

Opportunities

Hiking trails, formal campfire circle, chapel, obstacle course, pioneering supplies, archery, low ropes course, bouldering, mountain bike trail, mountain bikes available, volleyball, sports field, fishing, canoeable water, canoes available.
Description
Camp Byng is located in Roberts Creek on the Sunshine Coast just north of Gibsons, BC. With 1200 metres of ocean foreshore, Camp Byng is the premier Scout property of the Pacific Coast Council. There are three lodges available, each with sleeping "hulls". Each lodge has a full commercial kitchen, large activity room, and some dormitory space. The camp has wilderness areas for tenting and exploring, some with open-air style shelters. Camp Byng also has campfire sites, a spiritual centre, low ropes course with activities for all ages, archery range, nature trail, basketball court, parachutes and tug-o-war ropes in all lodges, and is in close proximity to many local natural parks.
Driving Directions
This information was gathered from reader contributions: use at your own risk.