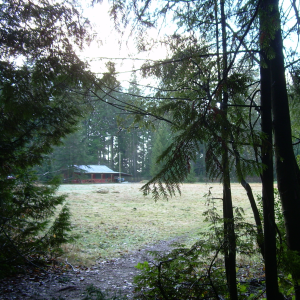 Camp Brick
Status: Closed
Size
2 ha (5 acres)
Coordinates

49.339234

,

-123.009112

Street Address
empty
Nearest town
North Vancouver, British Columbia
NTS Map
92G/6: North Vancouver
Operated by
Scouts Canada, Pacific Coast Council, North Shore Area
Information
Glen Capek; Phone: +1 604 986 7495
Bookings
Same as above
Accommodation
Facilities
Program
Tenting sites: Yes
Adirondack shelters: Unknown
Villages: Unknown
Cabins: Yes

Drinking water: Yes
Emergency phone: No
Mobile phone coverage: Unknown
Electric vehicle charging: Unknown
Picnic tables: Yes
Cooking shelters: Yes
Appliances in cabins: No
On-site store: No
Shopping nearby: Yes
Showers: Unknown
Indoor washrooms: Yes
Wheelchair washroom: Yes


Opportunities

Hiking trails, formal campfire circle, chapel, pioneering supplies, sledding, snowshoes available, skis available, mountain bike trail, sports field, fishing.
Description
Located in the Seymour Demonstration Forest, the site offers forested and open areas. This site is suitable for day and overnight outings for all ages and offers a large building, washrooms, and running water. There is a covered outdoor cooking and washing area and a large bunk house (Cub Hull) that can sleep up to 16.
A 45 minute hike away is Lynn Canyon where there is a great suspension bridge and an ecology centre with programs and movies that relate to various Cub and Scout badges.
The camp is named after the late Seymour District Scouter Jim Brick.
In summer 2006, soil testing revealed that the camp is contaminated with lead left over from its previous use as a skeet shooting range. The camp was closed as a result. The camp is on a ten-year lease from the Greater Vancouver Regional District (GVRD).
For More Information
| | |
| --- | --- |
| Information | Glen Capek; Phone: +1 604 986 7495 |
| Bookings | Same as above |
Driving Directions
This information was gathered from reader contributions: use at your own risk.