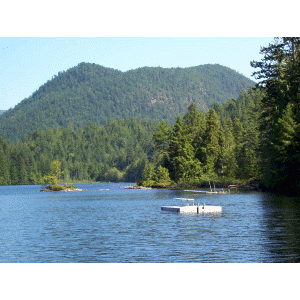 Camp Burley
Accommodation
Facilities
Program
Tenting sites: Yes
Adirondack shelters: Yes
Villages: No
Cabins: No

Drinking water: No
Emergency phone: No
Mobile phone coverage: Yes
Electric vehicle charging: No
Picnic tables: Yes
Cooking shelters: Yes
Appliances in cabins: No
On-site store: No
Shopping nearby: Yes
Showers: No
Indoor washrooms: No
Wheelchair washroom: No


Swimming

Lake with two swimming rafts and two docks.

Major hiking trails nearby

Mt. Daniel, Pender Hill, Skookumchuck Narrows.

Opportunities

Hiking trails, formal campfire circle, sports field, fishing, lake frontage, canoeable water, canoes available.
Description
Camp Burley a rustic camp with room for about 100 campers. It is an idyllic spot for swimming and canoeing. Wake up to the sounds of loons on the lake and take an early swim as the mist rises off the lake. There several sites, two of which have a cook shelter, Cub hulls (tiny cabins), and fire circles. Find a local to tell you the story of "The Hand in the Lake"!
The surrounding area has many hiking opportunities. Pender Hill and Mount Daniel are both within hiking distance of the camp and offer spectacular views of Pender Harbour. A short drive will put you in range of other hiking trails. A must-see is the Skookumchuck Narrows at tide change, just a short hike in from Egmont.
Camp Burley is located on Mixal Lake in the Pender Harbour Area of the Sunshine Coast. It is about an hour and a quarter drive from the Langdale Ferry Terminal. Drinking water is available from the Petrocan in Garden Bay, 7 km from camp.
Driving Directions
This information was gathered from reader contributions: use at your own risk.