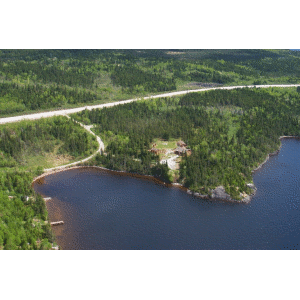 Camp Hancock
Size
4 ha (10 acres)
Coordinates

48.797182

,

-54.275122

Street Address
empty
Nearest town
Gambo, Newfoundland, 40 km east of Gander
NTS Map
2D/16: Gambo
Operated by
Scouts Canada, Newfoundland and Labrador Council
Information
Stephen Lundrigan; Phone: +1 709 235 0233
Bookings
Same as above
Accommodation
Facilities
Program
Tenting sites: Yes
Adirondack shelters: No
Villages: No
Cabins: No

Drinking water: Yes
Emergency phone: No
Mobile phone coverage: Unknown
Electric vehicle charging: Unknown
Picnic tables: Yes
Cooking shelters: No
Appliances in cabins: Yes
On-site store: No
Shopping nearby: Yes
Showers: No
Indoor washrooms: Yes
Wheelchair washroom: Yes


Swimming

Small cove with safe, sandy beach and predominently onshore winds

Major hiking trails nearby

Newfoundland T'Railway trail 5 km away

Opportunities

Hiking trails, formal campfire circle, pioneering supplies, volleyball, sports field, fishing, lake frontage, canoeable water, canoes available.
Description
Camp Hancock is on the picturesque Square Pond. The main house has a fully-equipped kitchen, eating area, and bathrooms. The bunkhouse has 32 beds in 4 rooms: 16, 12, 2, and 2. The camp has plenty of open area for playing sports or pitching tents. Canoes are stored on-site with a suitable area for launching them. Opportunities includes summer and winter fishing for trout and smelt. Lean-to construction is permitted. Predominantly onshore winds.
For More Information
| | |
| --- | --- |
| Information | Stephen Lundrigan; Phone: +1 709 235 0233 |
| Bookings | Same as above |
Driving Directions
This information was gathered from reader contributions: use at your own risk.