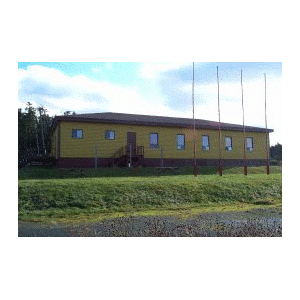 Camp St. George (CBS Scout Hut)
Size
2 ha (5 acres)
Coordinates

47.341186

,

-53.215837

Street Address
Salmonier Line, Conception Bay South, NL (Map may be inaccurate)
Nearest town
Holyrood, Newfoundland near St. John's
NTS Map
1N/6: Holyrood
Operated by
Scouts Canada, Newfoundland and Labrador Council, 1st Conception Bay South Scout Group
Information
Paul Butler; Phone: +1 709 728 6695
Bookings
Same as above
Accommodation
Facilities
Program
Tenting sites: Yes
Adirondack shelters: No
Villages: No
Cabins: Yes

Drinking water: Yes
Emergency phone: No
Mobile phone coverage: Yes
Electric vehicle charging: Unknown
Picnic tables: Yes
Cooking shelters: No
Appliances in cabins: Yes
On-site store: No
Shopping nearby: No
Showers: Yes
Indoor washrooms: Yes
Wheelchair washroom: No


Swimming

Rocky beach on pond

Opportunities

Hiking trails, formal campfire circle, sledding, sports field, fishing, canoeable water.
Description
Camp St. George is in a wilderness area accessible by car. There is a large lake and ample wilderness nearby with numerous hiking trails. There is one large cabin with a large common room for sleeping.
For More Information
| | |
| --- | --- |
| Information | Paul Butler; Phone: +1 709 728 6695 |
| Bookings | Same as above |
Driving Directions
This information was gathered from reader contributions: use at your own risk.