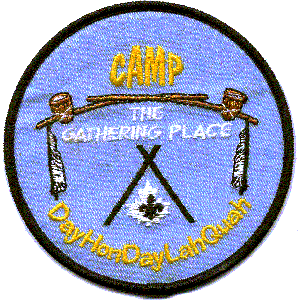 Camp DayHonDayLahQuah
Notice: All Scouts Canada camps are temporarily closed due to COVID-19.
Status: Closed
Size
3 ha (7 acres)
Coordinates

42.877713

,

-79.18425

Street Address
611 Pinecrest Rd, Port Colborne, ON (Map may be inaccurate)
Nearest town
Port Colborne, Ontario, 30 km south of St. Catherines
NTS Map
30L/14: Welland
Operated by
Scouts Canada, Battlefields Council, Merritt Trail Area
Information
Email; Phone: +1 905 835 1534
Bookings
Web Site; Contact: Email; Phone: +1 866 568 7472
Accommodation
Facilities
Program
Tenting sites: Yes
Adirondack shelters: No
Villages: No
Cabins: Yes

Drinking water: Yes
Emergency phone: Yes
Mobile phone coverage: Yes
Electric vehicle charging: Unknown
Picnic tables: Yes
Cooking shelters: Yes
Appliances in cabins: Yes
On-site store: No
Shopping nearby: Yes
Showers: No
Indoor washrooms: Yes
Wheelchair washroom: No


Swimming

In nearby Lake Erie

Major hiking trails nearby

Greater Niagara Circle Route

Opportunities

Sports field.
Description
DayHonDayLahQuah is a small, wooded camp with tenting sites and a cabin. The cabin includes washrooms, kitchen with dishes and appliances, and a main room which can be used for sleeping, eating, and training. Outside, there is a large picnic shelter with a brick fireplace, picnic tables, and electric lighting.
The camp is a short walk from Humberstone Centennial Park which includes a play structure, sports field, tennis courts, picnic shelter, and beach on Lake Erie.
Nearby Scouting attractions include the 1955 World Scout Jamboree campground and commemorative plaque near Fort George and the Niagara Scouting Museum in Niagara Falls.
Scouts Canada closed the camp in September, 2019.
For More Information
| | |
| --- | --- |
| Information | Email; Phone: +1 905 835 1534 |
| Bookings | Web Site; Contact: Email; Phone: +1 866 568 7472 |
Driving Directions
This information was gathered from reader contributions: use at your own risk.