COVID is still here; Scouting should be outdoors
Many people have moved on from taking precautions against COVID. Many people in crowded indoor places do not wear masks. Photos of Scouting activities regularly show indoor activities with no use of masks or distancing. Many people are done with COVID.
But COVID is not done with us. "Hospitalizations surge to nine-month high in Waterloo Region" wrote the Waterloo Region Record on October 13, 2023. They reported that 43 people are in hospital, far above the average for the entire pandemic, which is 25. With the exception of a reprieve this past summer, this hospitalization number has been above average almost continuously since the Omicron wave in January 2022.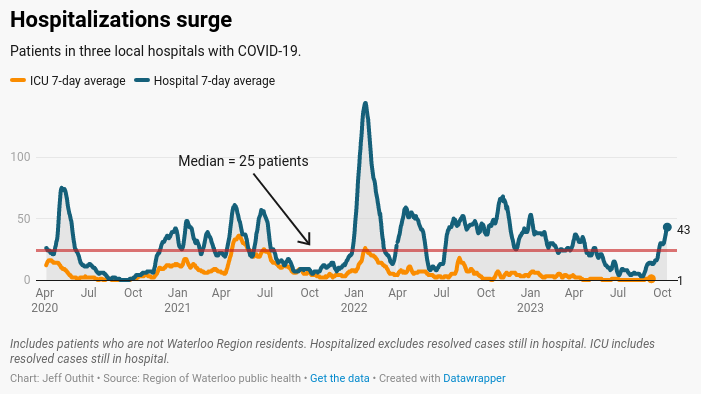 These figures are from Waterloo Region, Ontario, where I live, but Waterloo Region is not alone in seeing this surge.
The death rate from COVID is much less than it was earlier in the pandemic. Vaccination and improved treatments prevent many deaths. That is why I am not talking about postive COVID tests. This is about hospitalization, when people are so sick that they need to spend time in hospital.
Time in hospital is not the only concern. Every case of COVID, even a minor one, runs the risk of developing long COVID. Many people have been debilitated by brain fog, chronic pain, and intense fatigue.
Scouting can help. COVID does not spread outdoors. Scouting is am outdoor movement. When we do our Scouting outdoors, we create a safe activity for young people who will not get sick and will not pass on COVID to friends or family.
Outdoors, all the time?
The March 2020 lockdown shifted Scouting online. Online Scouting does not work well, but did maintain the Troop social connections and a sence of normality during a difficult time (see "Online Scouting: How to make it work").
In July 2020, my Troop held our first activity back in-person. This was allowed only by following a detailed set of guidelines that had been recently released by the Ontario Ministry of Health. Our activity was a hike and we kept 2 meters apart.
My Troop's meetings have been entirely outdoors since then. We have met in parks and conservation areas. We have met in sun, rain, and snow. We have biked, hiked, paddled, setup shelters, learned first aid, built fires, cooked food, sang songs, and done so many other things that make Scouting was it is. We shifted our regular meetings away from dark weeknight evenings to Sunday afternoons, meeting for four hours every two weeks.
Scouting works entirely outdoors. Some things do not work as well. Sitting down to plan a menu or work on some skills is difficult in the cold or wind. Our programs have to take the weather into greater consideration. But on the whole, Scouting can do done without being inside. The only thing we have done inside is grocery shopping for camps, wearing masks.
If being entirely outdoors is not feasible for your unit, here are some measures to consider:
Spend as much time as feasible outdoors. Choose programs that work well outside. Start meetings outside and come in only when something about the outdoors makes the activity unworkable.
Think about what would allow more time outdoors. Do you need more lanterns, better tarps?
Meet in well-ventilated places. Ontario schools have made huge improvements in ventilation and air filtrations. A typial church or community hall is poorly-ventilated.
Use distancing: Use your whole space when indoors. Spread out as much as you can.
Insist that people screen themselves for COVID before meetings and stay home if they are unwell.
It is said that Scouting is three-quarters "outing". It can also be entirely outdoors.