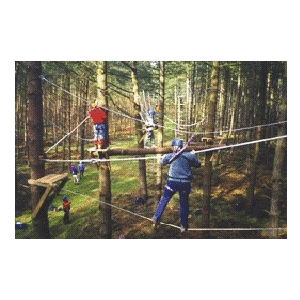 Woodland Trails Scout Camp
Accommodation
Facilities
Program
Tenting sites: Yes
Adirondack shelters: No
Villages: Yes
Cabins: Yes

Drinking water: Yes
Emergency phone: Yes
Mobile phone coverage: Yes
Electric vehicle charging: Unknown
Picnic tables: Yes
Cooking shelters: Yes
Appliances in cabins: Yes
On-site store: No
Shopping nearby: Yes
Showers: Yes
Indoor washrooms: Yes
Wheelchair washroom: Yes


Swimming

On-site pool

Major hiking trails nearby

Oak Ridges Trail

Theme area

Caboose cabins

Opportunities

Hiking trails, formal campfire circle, obstacle course, pioneering supplies, sledding, high ropes course, rock climbing, mountain bike trail, mountain bikes available, volleyball, sports field.
Description
Woodland Trails has 19 campsites which are spread through a breathtaking landscaping. Why trudge through the snow when you can ski on the camp's groomed cross-country trails? There's no better way to beat the summer heat than taking a dip in the Olympic-sized pool. A quick jog on the obstacle course is a good way to warm up on a chilly morning.
In May 2004, three CN caboose were moved from the closed Oba-Sa-Teeka Scout Reserve to Woodland Trails. One is outfitted as a dining car with kitchen and eating area. The other two are bunk cars sleeping eight each (six in double-bunkbeds and two in the cupola).
Camp Woodland Trails has two mountain biking courses of different levels of difficulty. The camp will supply your group with bikes and all the gear they need. Camp staff will guide your group through the course. Advanced booking is required.
For the more adventurous, there is a high ropes course. Your group will get the thrill of a lifetime by climbing their way up the ropes and challenging themselves to reach their limit. Our trained staff will guide the members through the course and help them along the way. This is program is for Cubs and older.
Driving Directions
This information was gathered from reader contributions: use at your own risk.