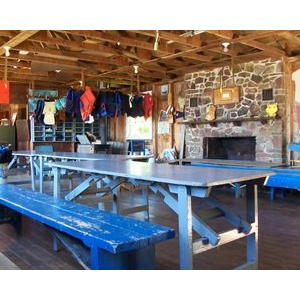 Sunken Lake
Size
empty
Coordinates

44.999

,

-64.4475

(approximate location)
Street Address
empty
Nearest town
Wolfville, Nova Scotia
NTS Map
21A/16: Windsor
Operated by
Scouts Canada, Nova Scotia Council, Valley Area
Information
Web Site; Contact: Hugh Chipman; Phone: +1 902 542 7424
Bookings
Web Site; Contact: Ian MacDonald; Phone: +1 902 542 9219
Accommodation
Facilities
Program
Tenting sites: Yes
Adirondack shelters: No
Villages: No
Cabins: Yes

Drinking water: Yes
Emergency phone: No
Mobile phone coverage: Yes
Electric vehicle charging: No
Picnic tables: Yes
Cooking shelters: No
Appliances in cabins: No
On-site store: No
Shopping nearby: No
Showers: No
Indoor washrooms: No
Wheelchair washroom: No


Swimming

On-site beach

Opportunities

Hiking trails, fishing, lake frontage, canoeable water, canoes available.
Description
The Sunken Lake Camp is a rustic camp, available for rental by youth groups and other interested parties. Facilities include the main lodge with electricity, wood heater, fridge, gas stove, running water, tables and chairs, and outfitted kitchen; and three cabins each with bunks for 8.
Driving Directions
This information was gathered from reader contributions: use at your own risk.