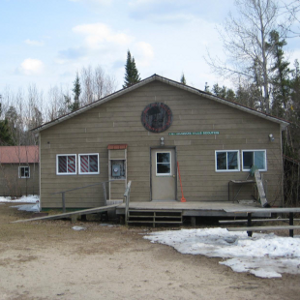 Nellie Lake Camp — 1st Iroquois Falls (Smooth Rock Falls)
Status: Threatened
This camp is still open and available for use. The best way to save it is to use it.
Accommodation
Facilities
Program
Tenting sites: Yes
Adirondack shelters: No
Villages: No
Cabins: Yes

Drinking water: Yes
Emergency phone: Yes
Mobile phone coverage: Unknown
Electric vehicle charging: Unknown
Picnic tables: Yes
Cooking shelters: Yes
Appliances in cabins: No
On-site store: No
Shopping nearby: No
Showers: No
Indoor washrooms: No
Wheelchair washroom: No


Swimming

Sandy beach with dock

Opportunities

Hiking trails, formal campfire circle, volleyball, fishing, lake frontage, canoeable water.
Description
Facilities consist of one large mess hall (including small kitchen and bedroom) with connected bunkhouse and running water. The bunkhouse has enough bunk beds to accommodate at least 20 people. There is also one small bunkhouse with enough beds for up to 4 people. Two outhouses are present. There is a small sand beach on the premises with a small dock. There is one large anchored picnic table as well as a fire pit with benches surrounding it.
Driving Directions
This information was gathered from reader contributions: use at your own risk.