Baden-Powell 150th Anniversary Crest/Badge/Patch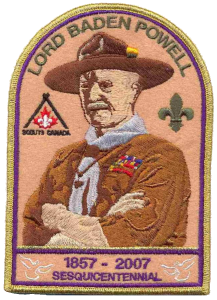 Click for a larger image
Lord Robert Baden Powell was born on February 22, 1857. The year 2007 is both the centennial of Scouting and the sesquicentennial of the birth of our Founder. A special crest/badge/patch has been created to celebrate this 150th anniversary of B-P. The size is 10×14.5 cm (4×5¾″).
Ask for the crest at your nearest Scouts Canada Scout Shop. If they do not carry it, you can order by mail from the North Waterloo Scout Shop. The price is $7.90 plus tax, including shipping. In Ontario, the price with tax is $9.00. Out-of-Canada prices: US$7.75 or €6.00. For mail orders, please pay by cheque made out to "Scouts Canada: B-P Badge". For information, contact Ted Claxton. Mail orders to:
Baden-Powell 150
North Waterloo Scout House
844 Frederick Street
Kitchener, Ontario N2B 2B8
Canada
Framed Presentation Set
A framed presentation set is also available for $22.95 plus taxes and shipping. To order, contact Peter Miller (phone +1 519 742 8325).